Company's Outline
NAME
Masuoka Manufacturing Co., Ltd.
IN JAPANESE
株式会社 益岡製作所
ESTABLISHED
November, 1997
CAPITAL STOCK
JPY 10,000,000.-
PRESIDENT / CEO
Yasuaki Masuoka
ADDRESS MAINOFFICE
4-29-16, Kameari, Katsushika-ward, Tokyo
JAPAN 125-0061
TEL: +81-3-5680-7818 FAX: +81-3-5680-5835
E-mail① : m-yasuaki@team-masuoka.com
E-mail② : info@team-masuoka.com
DESCRIPTION
Manufacture and/or sell:
Rubber parts for automobile, semiconductors, medical uses, OA equipments, and any others.
ADDRESS FACTORY
No.5, Haihang Road, Free Trade Zone, Dalian
Liaoning Prov., CHINA
(For more details: CLICK HERE)
HISTORY
OCT, 1996 Established Yizhao Rubber Co., Ltd. (Factory in China)
NOV, 1997 Established Masuoka Manufacturing Co., Ltd. (Capital fund JPY10,000,000.-)
NOV, 1997 Factory in China operation started.
FEB, 1998 Opened Tokyo Office at 4-14-19, Shiratori, Katsushika-ward.
MAR, 2002 Obtained ISO9001:2000 Certification. (Factory in China)
NOV, 2003 Established Masuoka Vietnam Co., Ltd. in Haiphong, Vietnam.
MAY, 2004 Factory in Vietnam operation started.
AUG, 2004 Tokyo office moved to current address, Kameari.
APR, 2005 2nd Factory in Vietnam constructed, and operation started.
OCT, 2005 Tokyo Office became Main office.
DEC, 2005 Function of Osaka factory merged to Factory in Vietnam. As a result, our all manufacturing bases moved into overseas.
JAN, 2006 Established Masuoka Euro GmbH in Stuttgart, Germany.
DEC, 2006 Obtained ISO14001:2004 Certification. (Factory in China)
JAN, 2011 Divested Masuoka Vietnam Co., Ltd.
SEP, 2011 Closed Masuoka Euro GmbH.
OCT, 2012 Established relationship company, R&P International Co., Ltd.
OCT, 2013 Installed 250t/350t automatic vacuum pressing machines into Factory in China. 4 machines each.
DEC, 2013 Installed two 500t automatic vacuum pressing machines into Factory in China.
2017    Installed two 250t automatic vacuum pressing machines.
2018    Installed 500t/100t automatic vacuum pressing machine.
MAR, 2019 Installed automatic imagery analysis inspection machine into Factory in China.
Reach us
5 minutes walk from "Kameari" station on JR Joban-Line.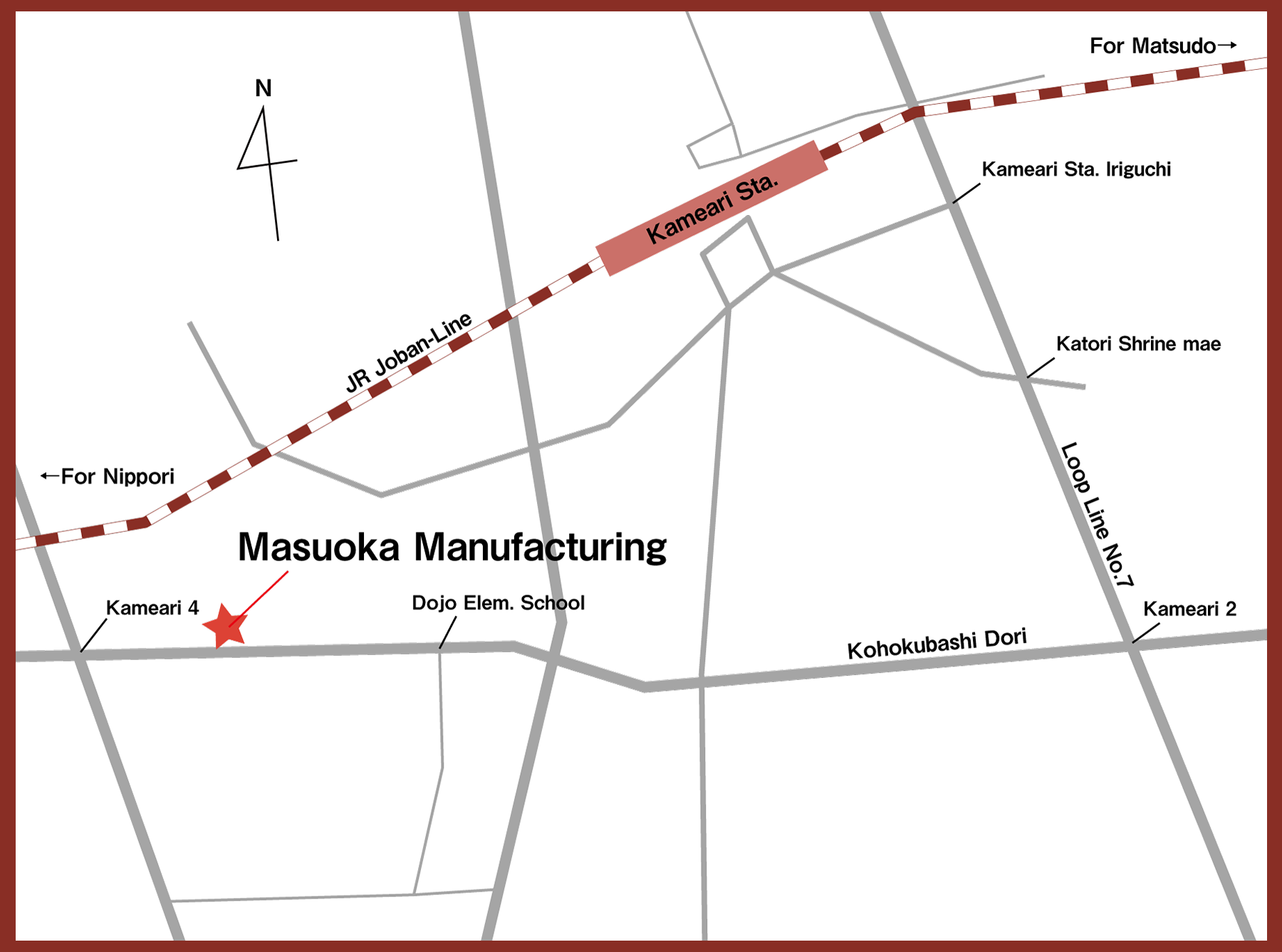 Large size (External Link)
Business Proposal
Through our longstanding experience with many great clients, we have a lot of cases about manufacturing of industrial rubber products. And we always have received high marks. Taking advantage of such experiences, we also do all-bandle-proposal sales.

If you are in trouble with rubbers, our experienced staff can advise product matching, material selection, installation so on, and also create product drawing with responsibility even if your business is just in planning phase.

In addition, even if other company said NO against your request, please contact us without any hesitate. We will tackle it with our all resources.
Ex. Fast manufacturing, Early delivery, Difficult molding, and any others.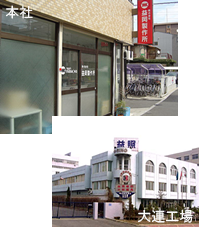 Any Inquiries, please contact

Masuoka Manufacturing Co., Ltd.
〒125-0061
4-29-16, Kameari, Katsushika ward, Tokyo, Japan
TEL:+81-3-5680-7818 FAX:+81-3-5680-5835