"TARGET IS WORLDWIDE" TEAM-MASOKA
Masuoka Manufacturing established in 1997, and since then, we always set our sight to all over the world.

We expanded our manufacturing bases into China, Vietnam from Japan. And in 2006, we established sales centre in Germany to penetrate Europe market. In this way, we are everytime preparing to product world-standard items with best prices.
With Japanese' "Obsession with high-quality" and competable prices, we product parts for automobiles, semiconductors, displays, household machines, and any others.

 Now we are facing era of "Higher quality, lower price". We are producing a huge number of international high-marked items for many years.
(Vietnam factory and Germany sales base are already closed.)

OUR PHILOSOPHY
Destroy fixed ideas, destroy any bias. Tackle to everything with good imagination to make a contribution people's living and cultures all over the world.
"NO DESTRUCTION, NO CREATION"
ACTION AGENDA
〇BE HONEST
 →Only the honest gets trust.
〇KEEP STUDYING
 →Study and learn from everything you relate.
〇VALUE THE SOLIDARITY
 →Share every information by everyone. All employees make efforts to make readiness for core competence.
〇EXTEND INDIVIDUALITY
 →Making better employees individuality.
〇DO THE BEST
 →Use all resources to tackle it.

Aboves are our precious. All clients are also our precious. We will keep high-achieving in technologies, quality controls, prices settings, and any others.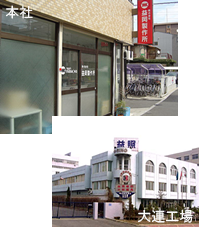 Any Inquiries, please contact

Masuoka Manufacturing Co., Ltd.
〒125-0061
4-29-16, Kameari, Katsushika ward, Tokyo, Japan
TEL:+81-3-5680-7818 FAX:+81-3-5680-5835